A Verrus from 1869 in Salazarese Basque
Un Verrus del año 1869 en euskera salacenco
1869. urteko Berrus bat Zaraitzuko euskaraz
A recently discovered handwritten document from 1869 includes, among others, the oldest version of the Verrus we know so far. Verrus is a traditional collection carol in Basque, sung in Ochagavia on Christmas Eve. In this work, I inform on the discovery, narrow down the date and authorship of the manuscript, include a paleographic as well as an updated transcription of the text with comments, make a literature review of the vast amount of song versions collected, and highlight the most important features, in comparison to other versions. Finally, I analyze some features of the contemporary version of the carol.
Un documento manuscrito del año 1869 recientemente descubierto incluye, entre otras cosas, la versión más antigua del Verrus que se conoce a día de hoy. El Verrus es un villancico de cuestación tradicional en euskera (y latín) que se canta el día de Nochebuena en Ochagavía. Este trabajo da cuenta del hallazgo, ubica la fecha y autoría del manuscrito, incluye la transcripción paleográfica y actualizada del texto con comentarios, aporta una revisión bibliográfica de la gran cantidad de versiones del villancico recogidas, y resalta las características más relevantes de la versión del manuscrito en comparación tras otras. Finalmente, se han analizado algunos rasgos de la versión actual.
Berriki agertutako 1869ko dokumentu eskuizkribatu batek gaur egun ezagutzen dugun Berrusaren bertsiorik zaharrena dakar, besteak beste. Berrus euskarazko (eta latinezko) eskerako gabon kanta tradizionala da, Otsagabian Gabon egunean kantatzen dena. Lan honetan, aurkikuntzaren berri eman dut, eskuizkribuaren data eta egiletza kokatu, iruzkinez hornitutako transkripzio paleografikoa eta gaurkotua eman, kanta horren bildutako aldaera mordoaren berrikuspen bibliografikoa egin, eta ezaugarri aipagarrienak azpimarratu ditut, beste bertsio batzuekin alderatuz. Azkenik, gaur egungo aldaeraren ezaugarri batzuk aztertu ditut.
Fichier principal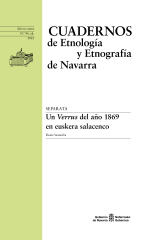 Verrus.pdf (698.16 Ko)
Télécharger le fichier
Origin : Publisher files allowed on an open archive
Licence : CC BY NC - Attribution - NonCommercial