Euskararen indarrak eta ahuleziak gaur egun Ipar Euskal Herrian: hizkuntza-bizindarra
This paper attempts to assess the current vitality of the Basque language in Iparralde, the French Basque Country. To this end, a range of social indicators and features are classified: levels of knowledge and use of Basque, functions and areas of use, attitudes of Basque-speakers, public acceptance and official policies, etc. In summary, and simplifying, the vitality of Basque is on the rise, though only slowly.
Artikulu honetan gaur egungo euskararen bizindarra Ipar Euskal herrian ebaluatzen saiatzen da. helburu honetarako, ezaugarri eta adierazle sozial anitz sailkatzen dira: euskararen ezagutza eta erabilera mailak, funtzioak eta erabilera esparruak, hiztunen jarrerak, onarpen publikoa eta botere publikoen politikak, etab. Laburbilduz eta sinplifikatuz, euskararen bizindarra handitzen da, emeki-emeki baldin bada ere.
Fichier principal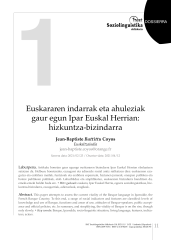 01 B. Coyos Artikulua.pdf (308.54 Ko)
Télécharger le fichier
Origin : Explicit agreement for this submission