"Gora, gora, jendeac!" New texts in Basque in Navarrese judicial processes from the 16th and 17th centuries
"Gora, gora, jendeac!" Nuevos textos en euskera en procesos judiciales navarros de los siglos XVI y XVII
"Gora, gora, jendeac!" Euskal testu berriak XVI. eta XVII. mendeetako justizia auzibide nafarretan
"Gora, gora, jendeac!" Nouveaux textes en langue basque dans les procès judiciaires navarrais du XVIe et XVIIe siècles
In this work I have studied the passages in Basque included in several judicial processes from the 16th and 17th centuries. Firstly, I have explained how and why scribes collected these passages from witnesses. Afterwards, I have addressed the contribution they may make to dialectology and historical linguistics. Then, I have edited and studied testimonies from Pamplona, Urdiain, Ujue-Pitillas, Nagore and Oronoz. Finally, I have listed the linguistic features, and provided a lexicon and a list of verbs.
En este trabajo he estudiado los pasajes en euskera que aparecen en algunos procesos judiciales de los siglos XVI y XVII. Primeramente, he explicado por qué y cómo recogieron los escribanos dichos pasajes de boca de los testigos. Después he tratado sobre la aportación de dichos textos a la dialectología y a la lingüística histórica. A continuación he editado y analizado testimonios de Pamplona, Urdiáin, Ujué-Pitillas, Nagore y Oronoz. Finalmente, he enumerado los rasgos lingüísticos, y aportado un lexicón y listado de verbos.
Lan honetan XVI. eta XVII. mendeetako auzibide zenbaitetan ageri diren euskarazko pasarteak aztertu ditut. Hasteko, eskribauek lekukoen ahotik pasarteok nola eta zergatik jaso zizkieten azaldu dut. Ondoren, dialektologiari eta hizkuntzalaritza historikoari egin diezaieketen ekarpenaz aritu naiz. Jarraian, Iru.ea, Urdiain, Uxue-Pitillas, Nagore eta Oronozko testigantzak editatu eta ikertu ditut. Buruenik, hizkuntza ezaugarriak zerrendatu ditut, eta lexikoia eta adizkitegia atondu.
Dans ce travail j'ai étudié les passages en langue basque qui apparaissent dans certains procés judiciaires du XVIe et XVIIe siècles. Tout d'abord, j'ai expliqué pourquoi et comment les scribes ont recueilli ces extraits de la bouche des témoins. J'ai abordé ensuite la contribution qu'ils peuvent apporter à la dialectologie et à la linguistique historique. Puis, j'ai édité et analysé les témoignages de Pampelune, Urdiain, Ujue-Pitillas, Nagore et Oronoz. Enfin, j'ai énuméré les traits linguistiques, apporté un lexique ainsi qu'une liste de verbes.
Fichier principal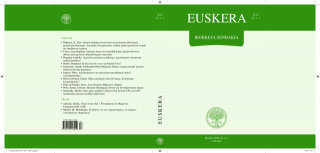 Santazilia 2018.pdf (3.29 Mo)
Télécharger le fichier
Origin : Files produced by the author(s)