Fostering Basque Child-­Directed Speech to support language transmission in Navarre
La salvaguarda del lenguaje infantil en euskera en apoyo de la transmisión lingüística en Navarra
Nafarroan euskarazko haur hizkera zaindu beharra, hizkuntzaren transmisioari laguntzeko
This study focuses on one of the aspects of the intangible linguistic heritage: the Basque child-directed speech. Child-directed speech is a linguistic variety that is currently at a critical stage (just as Basque itself is), mainly due to changes in the linguistic profiles of Basque-speaking families, and in family transmission processes. After briefly describing the features of this variety and its usage, different practices to promote it are put forward, as an essential measure for the preservation and promotion of Basque linguistic richness, especially in Spanish-speaking areas. Furthermore, the study discusses the active agents in the transmission of child-directed speech. Last but not least, some concluding remarks and future research lines are presented.
El presente trabajo aborda un aspecto de nuestro patrimonio inmaterial lingüístico: el lenguaje infantil en euskera. Se trata de una variedad lingüística en fase crítica debido, sobre todo, a los cambios en los perfiles lingüísticos de las familias vascoparlantes y en los modelos de transmisión familiar, no solo de dicha variedad sino de la lengua en su conjunto. Tras describir brevemente las características del lenguaje infantil y el uso que de él hacen los hablantes, se sugieren una serie de líneas de investigación de cara al futuro; además, se señalan diferentes formas y medios de divulgación del mismo como clave fundamental para la conservación y difusión de la riqueza lingüística del euskera, especialmente en ámbitos castellanohablantes, y se plantean cuáles son los agentes activos de la transmisión de esta variedad en la actualidad.
Lan honetan hizkuntzaren bidezko ondare ez-materialean sartzen den gai bat jorratzen da: euskarazko haur hizkera; barietate hau gaur egun aro kritikoan dago, batez ere familia euskaldunen hizkuntz profilak eta familiako transmisio eredua aldatu direlako, bai barietateari, bai hizkuntzaren osotasunari dagokionean ere. Hizkera honen ezaugarriak zein diren eta hiztunek nola erabiltzen duten iraizean azaldu ondoren, etorkizunean jorra litezkeen ikerketa-lerroak iradokitzen dira; horretaz landa, batez ere eremu erdaldunetan, euskararen aberastasun linguistikoari eusteko giltzarrietako modutzat hartuta, barietate honen zabalkunderako bideak zein izan litezkeen adierazten da, eta gaur egun barietate honen transmisiorako eragile aktiboak zein diren ere azaltzen da halaberean.
Fichier principal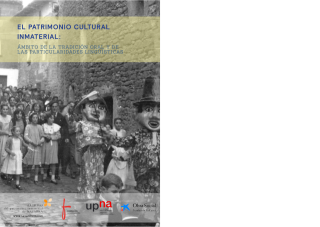 Santazilia&Zubiri(2014).pdf (699.9 Ko)
Télécharger le fichier
Origin : Explicit agreement for this submission