-le/-tzaile inflexiozko atzizkiaz
This paper analizes the nature of the Basque inflectional suffix -le/-tzaile, comparing it with the derivational suffix of the same form. As we will see, the inflectional suffix can select for a wide range of constituents, such as dative phrases, post positional phrases, adverbs and even finite clauses. Thus, the complement of the inflectional suffix -le/-tzaile can be claimed to be a vP or even a higher phrase such as I(nflection)P. As happens in participal predication in Basque (Ortiz de Urbina & Uribeetxebarria 1991), predication is mediated by empty operators in inflectional -le/-tzaile structures, giving rise to similarities with relative clauses.
Lan honetan -le/-tzaile inflexiozko atzizkia aztertuko dugu, eratorpenezko -le/-tzaile atzizkiarekin konparatuz. -le/-tzaile eratorpenezko atzizkiaz sortutako hitzek barne argumentua jaso dezakete gehienez ere; -le/-tzaile inflexiozko atzizkiak, aldiz, askotariko osagaiak bildu ditzakete: datibo sintagmak, postposizio sintagmak, adberbio sintagmak eta baita mendeko perpausak ere. Honen ondorioz, badirudi inflexiozko atzizkiaren osagarria aS (aditz txikiaren sintagma) dela edo are goragoko beste islapen bat (beharbada Inflexio sintagma). Partizipio predikatuko egituretan bezalaxe, litekeena da -le/-tzaile egituretan ere operatzaile isilen bitartez sortzea predikazioa. Azterbide honek, halaber, erlatibo generikoen eta gure egituraren arteko antzekotasunak azaltzen ditu.
Fichier principal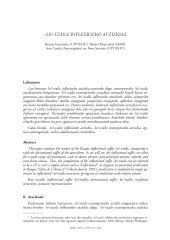 ASJU_-le_-tzaile.pdf (229.55 Ko)
Télécharger le fichier
Origin : Files produced by the author(s)