Leibniz y la lengua vasca
In the field of Basque studies, there has always been a marked tendency to quote and comment the works by any author referring to the Basque language no matter how trifling or trivial said reference may have been. In this respect, it is quite surprising that the research on Basque carried out by such an important figure as Leibniz be still virtually unknown to us. The great German thinker spent nearly thirty years gathering different opinions and materials on Basque and, although the apathy of his correspondents notably prevented him to materialise his projects, his conclusions were accurate in almost every respect. Thus, for example, Leibniz talked about the disparity between Basque and the rest of known languages (thus particularly contravening the incipient Basque-Celtic theories); about the language's past larger geographical spreading; about the unity of the language spoken by the Basques from both sides of the Pyrenees; etc. The main goal of this paper is to fill what we consider an important gap in the Basque language historiography.
El ámbito de la vascología ha sido siempre especialmente propenso a glosar la obra de todo autor que hubiese hecho cualquier referencia, por nimia y banal que esta hubiese sido, a la lengua vasca. Por ello, no se entiende bien que todavía sean entre nosotros prácticamente desconocidas las indagaciones que acerca del euskara realizó una figura tan importante como Leibniz. El genial pensador germano pasó cerca de treinta años requiriendo opiniones y solicitando materiales sobre la lengua vasca, y aunque la desidia de sus corresponsales le impidiese en muy buena medida materializar sus propósitos, sus conclusiones fueron, casi siempre, atinadas. Así, Leibniz habló de la disparidad del vasco con el resto de las lenguas conocidas (contraviniendo de manera especial las incipientes teorías vasco-celtistas); de su mayor extensión geográfica en el pasado; de la unidad de la lengua hablada por los vascos de ambos lados de los Pirineos; etc. Nuestra modesta pretensión, en este artículo, ha sido la de llenar este que creemos importante vacío en la historiografía de la lengua vasca.
Fichier principal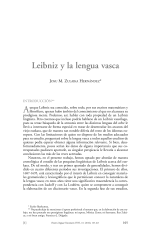 Leibniz_y_la_lengua_vasca.pdf (308.63 Ko)
Télécharger le fichier
Origin : Files produced by the author(s)