Aizkibelen Euzkeratik Erderara Biurtzeko Itztegia: eskuizkributik argitalpenera
This work has been done for the subject taught by professor Ricardo Gómez (UPV-EHU), Euskal Lexikografia (Basque Lexicography). There, we have compared José Francisco Aizkibel's Euzkeratik Erderara Biurtzeko Itztegia's (Diccionario basco-español) manuscript and the edition published some years later by Eusebio López in 1883-84. We have done the description of the manuscript. Moreover, instead of demonstrating that López used the manuscript which is kept in Koldo Mitxelena Kulturunea, we have shown that he modified, added and corrected (or even made new mistakes) some things. Finally, we have given some data about the number of editions of the dictionnary and about the differences between them.
Lan hau EHU-ko Ricardo Gómez irakaslearen Euskal Lexikografia ikasgairako egin da. Bertan, José Francisco Aizkibelen Euzkeratik Erderara Biurtzeko Itztegiaren (Diccionario basco-español) eskuizkribua eta urte zenbait igarota Eusebio Lópezek 1883-84 urtean egindako argitalpena konparatu ditugu. Eskuizkribuaren deskribapena egin dugu. Bestalde, Lópezek Koldo Mitxelena Kulturunean gordetzen den eskuizkribua baliatu zuela frogatzeaz gain, hainbat gauza moldatu, erantsi eta zuzendu (okertu ere bai) zituela erakutsi dugu. Azkenik, hiztegiaren edizio kopuruari eta euren arteko desberdintasunei buruzko datu zenbait agertu ditugu.
Fichier principal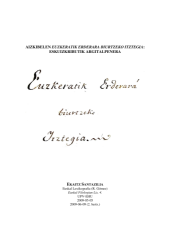 Santazilia_E._2009._Aizkibelen_hiztegia.pdf (4.31 Mo)
Télécharger le fichier
Origin : Files produced by the author(s)